A Christian bestseller (and CT Book of the Year) was targeted by a major counterfeiting scheme.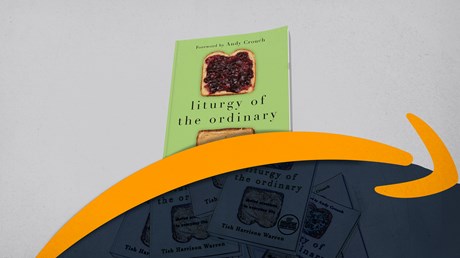 It took Tish Harrison Warren nearly three years to publish her first book. It was more than 18 months of arranging childcare and carving out time to write before she had a manuscript—11 chapters chronicling details from her day-to-day life paired with the rhythms of church ritual.
By the time Liturgy of the Ordinary debuted in December 2016, she and her publishing team had gone through the process of selecting a cover (an open-faced peanut butter and jelly sandwich against a bright green backdrop) and editing the page proofs to check every dot and detail.
But over the past year, thousands of readers ended up with copies that didn't quite look like the book she and InterVarsity Press (IVP) had finalized three years ago. The cover was not as sharp. The pages were a bit off-center.
These were not IVP's books at all. They were counterfeits.
Just as The New York Times put out a report in late June on a surge of counterfeit books available on Amazon, the 70-year-old Christian publisher discovered that one of its own had also "been victim of a highly organized and sophisticated counterfeiting scheme."
The Times covered complaints that the country's top bookseller "has been reactive rather than proactive in dealing with the issue" and found examples of Amazon's third-party sellers pushing fakes across genres: medical handbooks, popular novels, and classic literature. With Warren's case, add Christian books to the list.
IVP estimates that at least 15,000 counterfeit copies of Liturgy of the Ordinary were sold on the site over the past nine months, their retail value totaling $240,000. That nearly cuts sales of Warren's book in half; IVP reported 23,000 legitimate copies ...