Creation care does more than conservation. It cultivates faith formation, says A Rocha.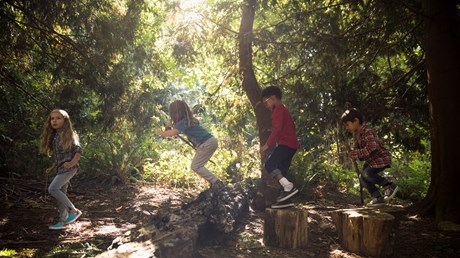 In the world of high-energy, high-entertainment Vacation Bible Schools and summer kids camps, "Wild Wonder" stands out as an un-flashy alternative, incorporating quiet activities like bird watching and nature observation alongside music and games. Developed by the Christian conservation organization A Rocha USA, Wild Wonder's new program explores environmental stewardship and spiritual formation in the context of the outdoors.
"The main vision behind the camp is that we want kids to know they are beloved creations," says A Rocha's curriculum manager Flo Oakes. "We call it creation care camp, but we are God's creations and we want kids to know that God loves us each deeply."
CT spoke with Oakes to learn more about Wild Wonder's unique approach to discipleship in the woods.
Your curriculum delves deep into theology with kids, from themes of God as the Creator, Sustainer, and Redeemer to the idea of the new heavens and the new earth. What drives this theological focus?
Among many Christians, there is a lingering idea that goes all the way back to the early heresy of Gnosticism. It's the idea that earthly things—matter, stuff, our bodies, anything physical—are inferior and that the only thing to hope for is a heavenly place we'll get to someday. I think some Christians have a hard time with environmental conservation because they've been taught to ask, "Well, why does it even matter? It's just the earth."
To be clear, our motive in creating this camp wasn't "we're going to make a green, environmental VBS where we just teach kids how to take care of the earth." There's no deeper meaning in that—essentially, ...