Randall Stephens's history pays attention to political and cultural flash points—without losing focus on the music itself.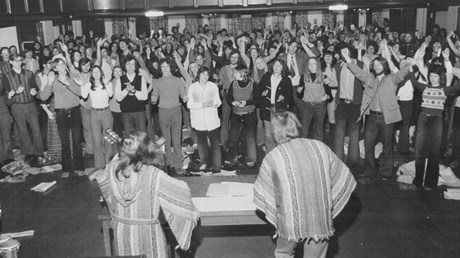 Every few years, it seems, what some call the "mainstream media" rediscover Christian rock. Sometimes it's treated with reverence and respect, as in John Jeremiah Sullivan's now-classic 2004 account of tagging along at a Christian music festival for GQ. More often, it's treated like a sociological oddity: a strange footnote in the history of American pop, a foreign culture to be explained with an anthropologist's rigorous eye. Just this September, The New Yorker's Kelefa Sanneh wrote a mini-history of Christian music ("The Unlikely Endurance of Christian Rock") that took the genre seriously, but still contained whiffs of the incredulous stance preferred by many music writers: Can you believe that band you like—take your pick from among U2, Bob Dylan. Paramore, Evanescence, Switchfoot, Sixpence None the Richer, The Killers, and the list goes on—might actually be Christian?
What Sanneh's piece got right, thankfully, was its attention to just how common Christian pop music is today—how central it is, in sometimes unrecognized ways, to American popular culture. (Though when he says this would have been hard to imagine in 1969, I'm not so sure; "Spirit in the Sky" was a hit single that year, and the previous year saw the release of perhaps the most overtly religious rock record of all time, The Electric Prunes's Mass in F Minor.)
Indeed, Christian rock has had a strange and circuitous journey back to the center of American culture. Randall J. Stephens's The Devil's Music: How Christians Inspired, Condemned, and Embraced Rock 'n' Roll describes this sometimes paradoxical path. Stephens traces the roots of ...